Uchimura's sales expansion activities in Southeast Asia were referred to in the 2015 White Paper on Small and Medium Enterprises in Japan as an excellent case study of a collaboration between a trading company and a manufacturer.
• Collaborations that leverage the respective strengths of the manufacturing and nonmanufacturing industries
Through collaboration among enterprises in the manufacturing and non-manufacturing industries and by leveraging the respective strengths of their manufacturing and sales functions, enterprises can achieve innovation and develop sales channels.

Below, we look at a case involving collaboration between an SMM and a medium-sized trading company (Case 2-1-13).
Case 2-1-13 Uchimura Co., Ltd.
A medium-sized enterprise which opened up markets in Southeast Asia based on strong teamwork with a local SME
Uchimura Co., Ltd. (employees: 90; capital: ¥96 million), based in Itachibori, in Osaka's Nishi Ward, is a medium-sized company established 70 years ago.

Since its foundation in 1939 as a trading company specializing in rubbers for industrial applications, seeking to offer products meeting the demands of its customers, the company has actively pursued overseas expansion25) and at the same time has made efforts to strengthen its technical divisions, branching out into areas including the manufacture of metal fittings for high-pressure hoses. Today, Uchimura's business covers a broad range of areas, from various types of industrial manufacturing (parts for construction machinery and industrial machinery, including high-pressure hoses), through the proposal of international logistics solutions, to marketing in the areas of environmental protection and resource recycling.
One of the company's ventures in the environmental field which has recently attracted attention is its opening up of markets in Southeast Asia for wedge wire screens, a wastewater treatment product manufactured by Toyo Screen Kogyo Co., Ltd. (employees: 70; capital: ¥20 million), a company based in Ikaruga town in Nara Prefecture.

Toyo Screen Kogyo manufactures screens used in sorting processes, and is able to produce screens with slit widths of five micrometers and upwards. The company can manufacture products of superb quality individually in response to factors including the size of the solids being separated and water quality. However, the company had not previously conducted direct sales activities in Southeast Asia.
Similar products are already being marketed throughout the world, but in many cases it is necessary to modify specifications in response to users' needs, making this a niche market in which it can be difficult for major companies to realize profits.
Uchimura already possessed subsidiaries in Southeast Asia acting as bases for sales of parts to major construction machinery manufacturers, and the company began to make efforts to open up sales channels for Toyo Screen Kogyo's products using these bases. Uchimura engaged in strong teamwork with Toyo Screen, making optimal use of its Southeast Asian subsidiaries while succeeding in reducing costs by having the frame sections of the products manufactured in the region, enabling it to compete with other manufacturers in terms of price, and opening up sales channels in countries including Thailand, Indonesia and Viet Nam.
The company also made active use of support measures implemented by the Ministry of Economy, Trade and Industry and the Japan External Trade Organization (JETRO), increasing its name recognition in Asian countries by exhibiting for several years in environment-related trade fairs. Increased sales also brought attention from major engineering firms, and this resulted in later expansion of sales.
As we have seen, behind Toyo Screen Kogyo's success in opening up new overseas sales channels lies carefully considered support, based on a policy of offering the customer the products they need. Building solid relationships of trust with customers, Uchimura engaged in rapid follow-up via exhibitions and other forms of publicity, screened business opportunities appropriately, and pursued on-target negotiations with an understanding of the business practices of the specific country concerned.
This example of strong teamwork between an SME possessing technological capability and a medium-sized company in order to open up overseas markets is renowned among those working in the region and is known as the "Uchimura-Toyo Model." As environmental awareness increases in Southeast Asia, we can expect further success stories involving the use of teamwork in order to reach out from West Japan to the rest of Asia.
25) As of the end of February 2015, the company had nine bases in seven countries, chiefly in the Asian region.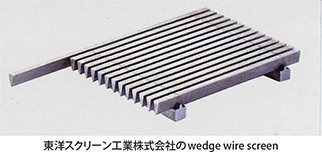 This case illustrates how a medium-sized trading company focused on a niche market that would be unprofitable for a large company is able to succeed in developing sales channels by working with a technologically-capable SMM to make the necessary changes to the production process for its products.
Rather than improving the products themselves, the enterprise transfers a portion of its production process overseas—something unachievable if not for the enterprise's collaboration with a trading company that had an overseas production site. Cases like this, where a medium-sized trading company with expertise in developing overseas sales channels collaborates with a technologically proficient SMM to leverage their respective strengths, illustrates the viability of even SMEs and microbusinesses developing sales channels on the level of large enterprises.