Eco Activities News – Reduction in electricity usage thanks to LED lighting!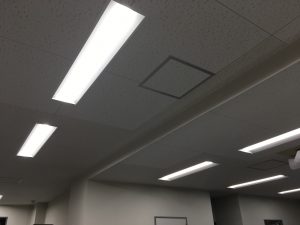 Uchimura was certified by the environment management system "ECO STAGE 1" in December 2014, and has been focusing on eco-friendly initiatives aimed at realizing the creation of an eco-friendly workplace. As part of these initiatives, conventional electric lights were replaced by LED lights at the end of September last year, especially in offices that require long hours of electric light usage. (About 70% of all lights were replaced.)
As a result, electricity usage decreased by about 35% in October last year compared with the same month in the previous year. The reduction ratio decreased somewhat during winter due to usage of the heating system, but since the introduction of LED lights, the electricity usage decreased by 23.6% during the 7 months until April this year when compared to the same period a year earlier.
Subsequent to the head office, replacement with LED lights was carried out at the Komatsu Office (warehouse and inspection space) in February this year, as well as the Omiya Office (warehouse) in March this year. LED lights help significantly to reduce labor needed for maintenance, as well as replacement expenses, due to the long operating life.
Let's keep carrying out these eco-friendly initiatives throughout the whole company.